Follow Majestic Family Records:
Support on YouTube:
www.youtube.com/antonsheridan
Support on Facebook:
www.facebook.com/majesticfamilyrecords
Follow on Twitter:
www.twitter.com/majesticlabels
Listen on SoundCloud:
www.soundcloud.com/majesticfamilyrecords
Samples & Purchase:
Support on Traxsource:
www.bit.ly/Majestic-TS
Support on Beatport:
www.bit.ly/Majestic-BP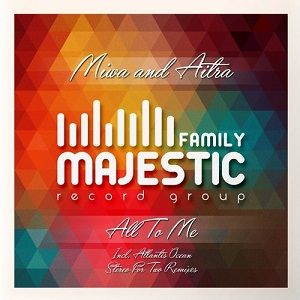 Download Link:
www.bit.ly/mfr106
Majestic Family returned to you with a new vocal release «All To Me» from Miwa & Aitra.
Aitra — Since childhood she was interested in club music and as her greatest musical idol she regards Andre Tanneberger aka ATB.
As a result of this fascination she has begun her adventure with music production in 2011.
Miwa — From her early age, she was trained with piano, flute, and violin in a classical music family.
Info:
Cat#: MFR106
Beatport release date: November 10th, 2014
iTunes release date: December 08st, 2014
Genre: Progressive House
Format: Digital
Stores: Beatport, iTunes, JunoDownload
Tracklist:
1. Aitra, Miwa - All To Me (Atlantis Ocean Remix)
2. Aitra, Miwa - All To Me (Stereo For Two Remix)
3. Aitra, Miwa - All To Me (Original Mix)
Feedback and Support:
Armin van Buuren , Max Graham, Gareth Emery, Shingo Nakamura, tyDi, Jaytech, Maarten De Jong
Andi Durrant, Martin Soundriver, Kyau and Albert, Judge Jules, Antillas, Above & Beyond
For More Information:
Website:
www.majesticshowcase.com
SoundCloud:
www.soundcloud.com/majesticfamilyrecords
Facebook:
www.facebook.com/majesticfamilyrecords
Twitter:
www.twitter.com/majesticlabels
YouTube:
www.youtube.com/antonsheridan